PRODUCTS AND SERVICES

Plastico Industries offers coating options that might be considered somewhat unique by comparison to other, more typical coatings in the market. All of our products have been engineered to meet a number of different automotive, heavy equipment and military specs, making them an ideal solution for a massive range of product options.
Aquence (A-coat)
...most often compared to ecoat, is a black paint, suitable for an iron substrate. Our dipping process can work wonders on complete assemblies as it cures at lower temperatures than other coatings and will not bond to bushings. Because it is a wetting agent, and it coats what it touches (iron based metals), it also allows us to coat an entire part, leaving none of the carbon steel bare. Performance standards include excellent corrosion protection with up to 750 hours of salt spray testing.

Nylon Dip or Spray
...is an organic product that truly stands in a field all on its own. It is most often compared to Teflon due to its very low coefficient of friction. Both our nylon 11 and 12 powders are extremely durable, and have been known to take quite a pounding, including more than 2000 hours of salt spray testing. Nylon offers a longer shelf life than many other coatings, meaning less potential re-work, than traditional powder coating. Nylon is available in a wide arrange of colours, however we work primarily in black, white and, at times red.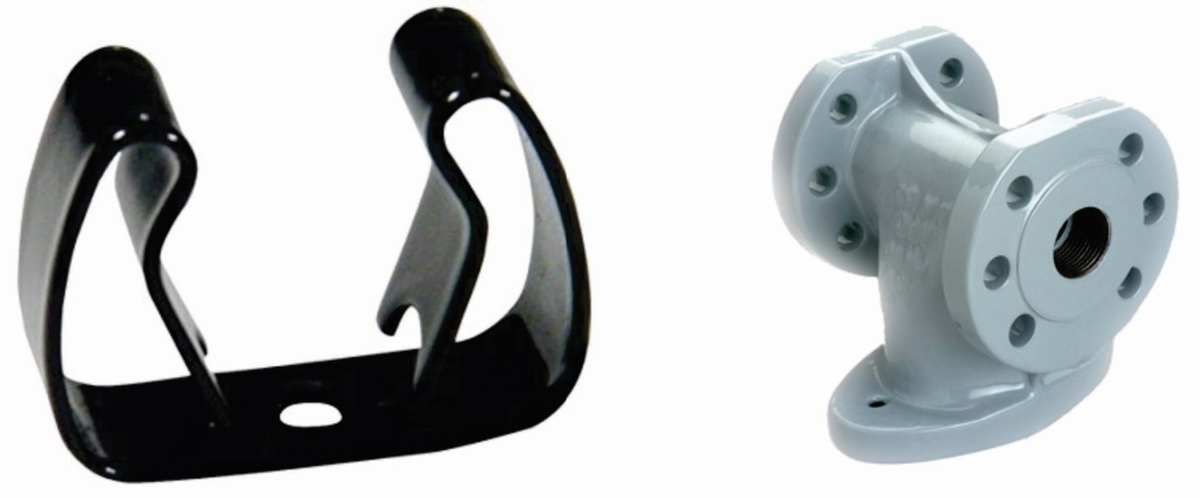 Plastisol Dip
...is often referred to as a 'rubberized coating'. While there is rubber feel to it, plastisol is a PVC based product. Made right here in our lab, the colour choices are just about infinite, though our common choices are black, brown, white, red, blue, green and yellow. Plastisol is an ideal coating on a part when you need comfort, grip, sound dampening, reduction of chatter or as a means to protect other parts, the list goes on. Our capability at Plastico Industries is quite impressive with carousel lines which are ideal for smaller, mass production parts, with the ability to coat in a multitude of colours. We also have a small monorail line where we can accommodate slightly larger parts in black or white and a large rack based hang line, with the ability to coat parts up to 9 x 7'.