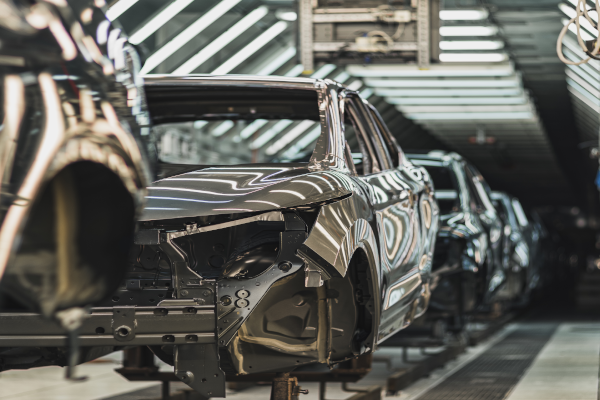 BSR. This acronym can stand for many different things (over 50, in fact, according to Google.)
But in the automotive sector, it can mean only one thing: buzz, squeak and rattle. And 99% of the people who deal with BSR in this industry really wish they didn't have to.
We happen to be among the 1% that don't mind ‒ because we have the tools and expertise to eliminate BSR for good. Here, I'll introduce you to three of the coating technologies we use to help automotive manufacturers eliminate buzz, squeak and rattle from their vehicles.
But first ‒ what exactly is BSR?
What Does 'BSR' Mean in the Automotive Industry?
Buzz, squeak and rattle (BSR) is a catch-all term for a variety of fiction-induced noises that can be produced by a vehicle. It's one of the biggest challenges facing automotive engineers today, and the number 1 cause of consumer complaints about new vehicles.
Generally, BSR is the unintended outcome of two component surfaces coming into contact with one another:
Squeak is caused by a stick-slip action when one part moves against another other.
Buzz is caused by the structure or component itself as it vibrates against another surface.
Rattle is caused by a collision between two components.
These noises might also be characterized by a consumer as squeals, creaks, clangs or bangs. At any rate, they're the last thing any new vehicle owner wants to hear on their first long trip.
The automotive industry has long recognized the importance of vehicle noise when it comes to customer perception. Not only are speaks, buzzes and rattles annoying, they can have a hugely negative effect on how customers rate a vehicle's quality and dependability. No one wants to save up for a brand-new car only to find that it starts rattling the second you take it down an unpaved road!
When you put it this way, I think you can see why 99% of the people who have this particular issue would much rather not. That's why numerous articles, videos and blog posts have been made about BSR and how to solve it. In fact, in 2011, someone wrote an entire 296 book on this issue, covering such areas as background theory, testing, analysis and elimination with chapters from leading experts in the field!
Now, I might not have written the book on BSR, but I can tell you about three of the ways we can help you solve it here at Plastico.
3 Ways to Eliminate BSR Using Coatings
One of the go-to solutions for eliminating frictional noise is to apply a protective coating to at least one of the surfaces responsible.
Anti-BSR coatings save manufacturers a lot of time and trouble by avoiding the need to use secondary measures like felt spacers and lubricants post-production.  With the right application and the correct choice of coating, we can effectively eliminate BSR for the entire life of the vehicle.
Plastico Industries offers three coatings that are excellent in removing BSR: nylon, Plastisol and Polyarmor. Each product has its own unique properties and potential applications.
Plastisol Coating offers colour, comfort, electrical insulation, texture, gripping power, and resistance to acids, alkalis and oils. Plastico Industries is an industry leader in Plastisol dip coating for the automotive industry.
Polyarmor Coating offers a wide range of performance attributes including impact and corrosion resistance as well as UV protection. Plastico offers Polyarmor dip coating.
Nylon Powder Coating offers resistance to corrosion, abrasion and chemicals, with natural lubricity and noise-dampening qualities. At Plastico, we offer nylon dip and nylon spray options.
Suffering from BSR? Let us show your components a little TLC and help you allieviate this headache once and for all! Our coating machines are designed to accommodate a myriad of parts. We're set up to handle small, medium and large parts as well as small, medium and large volumes.
Call us at 1-888-664-9998  or contact us online to learn more about all our coating services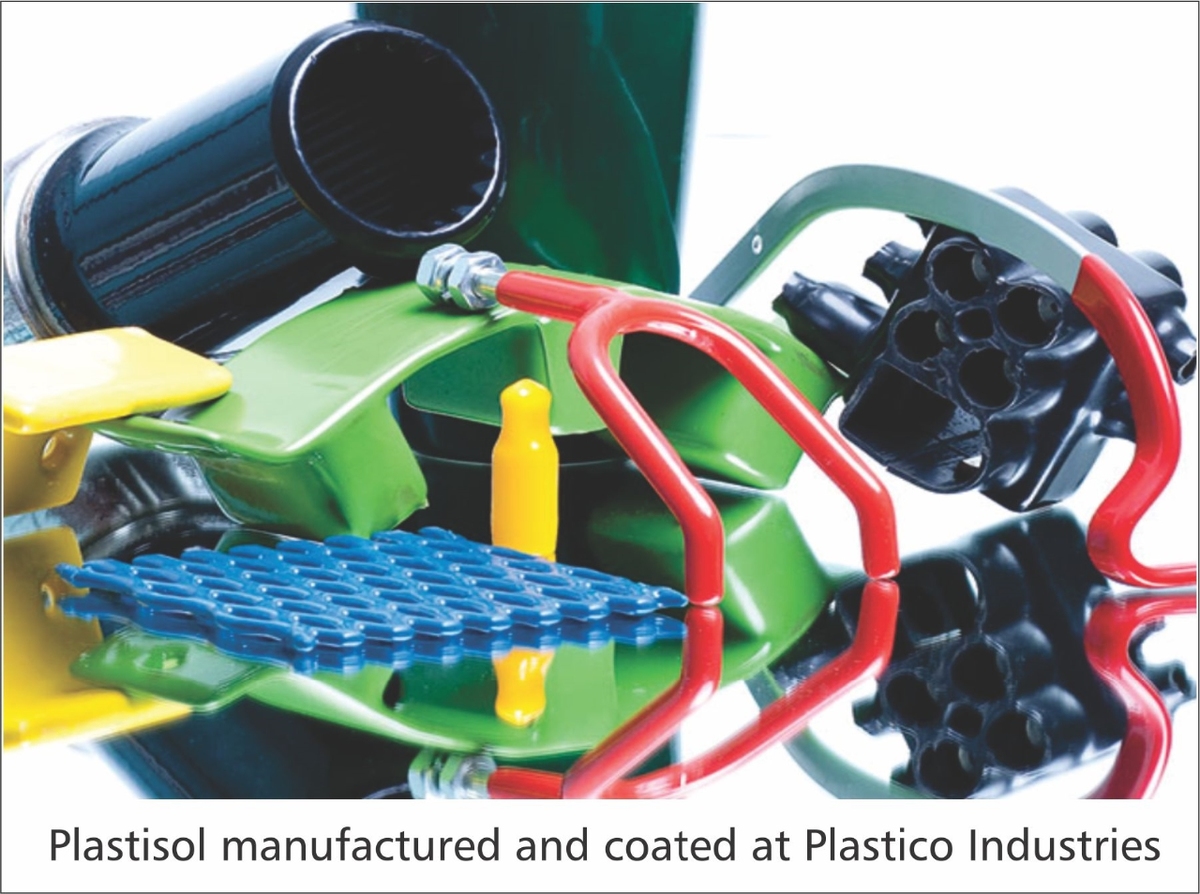 Plastico Industries has been making and applying plastisol for nearly 20 years.  Because we are so ingrained with the manufacturing of it, and the application of it, we often forget that many people are not really sure what plastisol truly is! Here's a quick, clean primer on the plastic coating known as Plastisol. 

What Plastisol is Made Of

Plastisol is described as, "a suspension of PVC or other polymer particles in a liquid plasticizer." Huh? 

Let's put that in layman's terms.  

The first part of the equation is polyvinyl chloride, better known as PVC or vinyl. It's a synthetic plastic polymer, meaning that it is a chemical, man-made plastic. 

PVC plastic is mainly derived from salt and ethylene. Its production consumes less energy and creates fewer emissions than many other plastic products. Many PVC products are manufactured to meet medical and food-contact standards set by the Environmental Protection Agency (EPA) or the U.S. Food and Drug Administration.

PVC is incredibly versatile. It can be made thick or thin, rigid or pliable, and in practically any colour imaginable. The properties of PVC and other synthetic polymers can be modified by combining them with other 'ingredients' or additives like plasticizers.

Plasticizers are substances added to materials to decreases their viscosity or thickness. Essentially, the plasticizer dissolves in the polymer and fills the space between the polymer particles, pushing them farther apart. This makes the PVC softer and easier to bend. 

The more plasticizer added, the more flexible the plastic becomes. By combining PVC particles with the right amount of plasticizer, the mixture can flow as a liquid. This liquid can then be applied to other materials through screen-printing/heat transfers, dip-coating or in molds!

You might remember how PVC's came under scrutiny a number of years back due to the presence of phthalates used in plasticizers. We recognized these concerns and switched to a phthalate-free plasticizer out of respect for our customers, end users and of course our employees. Today, Plastico Industries continues to produce a safer, phthalate-free Plastisol.

What Sets Plastisol Apart

Plastisol has many appealing characteristics that make it a top choice for coatings!
Colour Matching – Since it's made primarily from PVC, Plastisol can be matched to any colour you could ever need. Our most popular choices are black, red, blue, green and yellow, but Plastico can also manufacture custom colours in-house.
Feel – Plastisol has a "warm to touch", soft feel that is easy and comfortable to grip.  It is used to coat tool grips, bicycle handlebar grips, furniture handles, and even kid-friendly playground equipment. 
Sound Deadening – With a soft, impact-resistant surface, Plastisol can reduce metal-on-metal sounds such as squeaks, buzz or rattle.
Electrical Resistance – Plastisol has high dielectric strength and doesn't conduct heat or electricity. It is often used as an insulator for electrical tools, sheathings and connectors on wiring and busbars.
Chemical Resistance – Plastisol's resistance to alkali and acid makes it ideal for racks and tooling that are exposed to chemical substances.
Corrosion Resistance – Excellent for use on farm equipment, playground structures and other outdoor applications.
Impact Resistance – Plastisol is tough! We can add hardening agents to produce Plastisol with a Shore durometer rating of up to 90.
Wear Resistance – You'll often find Plastisol coating components that are frequently manipulated such as latches and pull handles.
Masking – Used as masking for other secondary coating applications.
How Plastisol Is Applied

Plastico Industries specializes in Plastisol dip-coating and molding. Another option is to dip a pre-made shape into the Plastisol, cure the Plastisol and then remove the Plastisol from the shape. Good examples of this are bicycle handles and caps. 
Molding – Molding can include pouring the Plastisol mixture into a mold, curing the Plastisol and then removing it from the mold.  This application can be used to make furniture feet, spacers, washers, plugs, fishing lures; the options are limitless.
Dip-Molding -  Dip-molding occurs when a part is dipped into Plastisol to put a coating over the part. The part must be preheated. This heat, along with the dip time, will determine the thickness of the Plastisol.  This pre-heated part is then dipped into Plastisol to coat it and then heat cured.  
Reach out to us online or call us at 1-888-664-9998 to learn more about our phthalate-free Plastisol dip-coating services.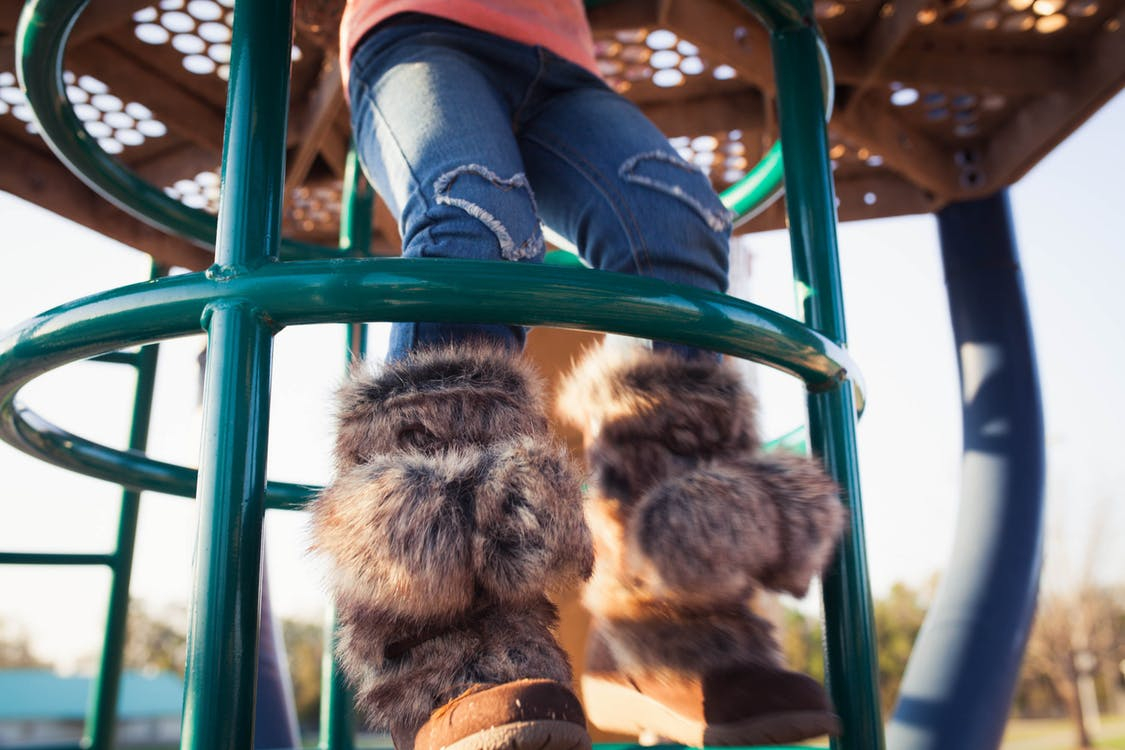 Plastisol is an extremely durable PVC-based coating that stands out as the coating of choice for heavy-duty applications. Although it has a rubbery feel and is often referred to as a 'rubberized coating', Plastisol far surpasses the durability of rubber. It also boasts impressive longevity, delivering lifelong protection to components that take a pounding. 
Along with its durability, Plastisol is an ideal coating solution for a wide range of specific manufacturing applications. It delivers serious, long-lasting protection from the elements or impact, but remains comfortable and easy to grip. It is washable, waterproof and resistant to mold. Plastisol coating also provides sound dampening or chatter reduction qualities.
How to Apply a Plastisol Coating
A Plastisol coating is applied as a thin film of coating on the product and is then heated in an oven or cured. The heat reacts with the coating creating a hard, indestructible barrier against elements or abuse. 
Plastisol is applied to components in a dipping process while the Plastisol compound is in a liquid state. The dipping process ensures that the component to be coated is completely covered. 
Here at Plastico Industries, the size or geometry of the product is not a barrier for coating. In fact, we can coat products as small as a thimble or as large as a playground! Our manufacturing capabilities are quite impressive, with two carousel lines which are ideal for smaller, mass production parts. The carousels are complimented with our monorail line where we can accommodate larger parts, up to 2 feet in width. Additionally, we also offer our robotics-assisted large structure line, where we have the ability to coat components up to 9 feet long and up to 7 feet in width.
Once the curing process is completed the Plastisol permanently adheres to the component. In fact, the only way to remove Plastisol is incineration at plus 800 degrees! After several hours, this intense temperature breaks down the hardened top of the coating and the remainder is then removed using shot blast.
Since the Plastisol coatings we apply here at Plastico Industries are formulated in-house, we can produce a wide range of colours (the most common choices are black, brown, white, red, blue, green and yellow.) Our carousels offer the flexibility to coat in a multitude of colours. 
Types of Products That Are Plastisol-Coated
You need look no further than your local playground to see the durability of a Plastisol coating! For many years playground manufacturers have looked to Plastico Industries to coat the steel decks and stair components of playgrounds. 
Plastisol is unparalleled in its ability to protect metal from corrosion and can withstand the harshest environmental conditions. Plastisol coating has UV inhibitors that deliver fade resistance and can be formulated in any degree of hardness, up to a Shore A Durometer rating of 90.
The applications for Plastisol coating extend well beyond the playground industry and our coating is specified for many Automotive, Military, Marine, Aerospace, Electrical and Consumer Product applications.
Obtain a Quote for Plastisol Coating
Our preferred process for quotation is to arrange a trial coating for your components on a no-charge basis. This trial requires a small number of samples that we will coat for your review and comment. The trial also provides Plastico Industries with the insight of how many components can be processed in a cycle as well as the Plastisol raw material yield. The understanding of cycle count and material yield assist our team in preparing an accurate quotation.
To learn more about how a Plastisol coating can deliver an improved value position to your business simply fill out this form and one of our knowledgeable associates will be happy to assist! We are an ISO 9001:2015 certified metal coater with 40 years of experience.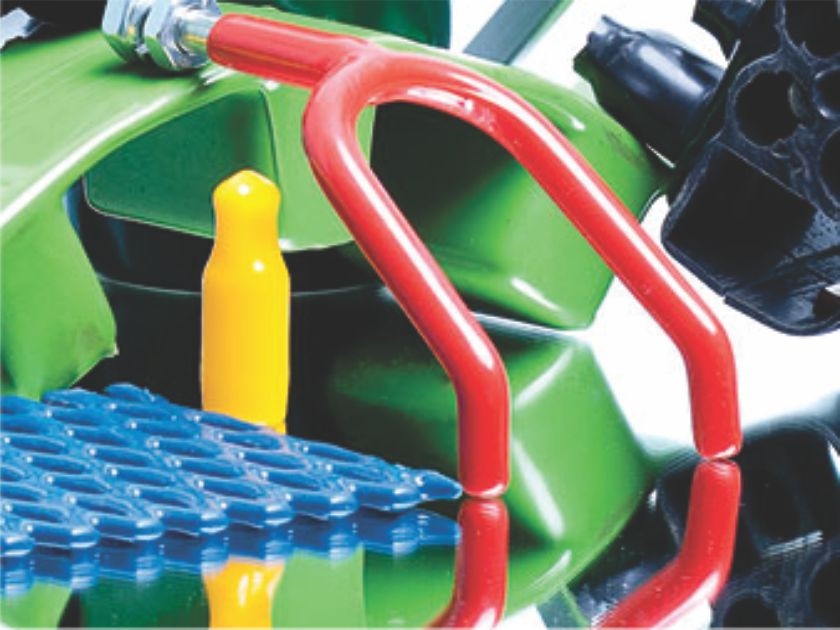 When most people hear the word Plastisol, they think of the silk screen techniques that prints glossy images onto t-shirts. 
But as someone in manufacturing, you know that Plastisol is also used for an ever-expanding list of industrial molding and dip coating applications.
Plastisol isn't a liquid paint or powder coating, but rather a polyvinyl chloride or PVC-based product made of synthetic plastic polymers. Using additives, it is possible to customize Plastisol in a variety of ways, including its:
Texture
Colour
Hardness
Rigidity
Flexibility
UV-resistance
Abrasion-resistance
Since it can be customized to meet so many specific needs, Plastisol is a common solution to many coating problems.
If any of these challenges sound familiar, Plastisol could be the solution for you!
1. You Need a Coating That Won't Break Down Easily
Plastisol is thicker and more flexible than many paints and powder coatings, with good surface adhesion. It's also highly resistant to elements that can cause other films to degrade, including chemicals and UV radiation.
This is one of the reasons why Plastisol has garnered interest from the medical community as a coating for stainless steel equipment and instruments.
2. You Want a Coating That is Soft, But Durable
PVC comes in two basic forms: rigid or flexible. Our Plastisol is one of the latter. 
It's tough and weather-resistant, but remains relatively pliable - which makes it an ideal coating for playground equipment and outdoor furniture.
3. Your Coating Needs to Be Food-Grade
Not all coatings are suitable for food containers, cooking utensils and other things that go on the dinner table. All food processing equipment and products must meet the criteria established by Health Canada to be considered 'food grade.' 
The good news is, Plastisol can fit the bill. It's the coating of choice for many agricultural, food processing and culinary products. Even spoons for babies are dipped in Plastisol! 
Here at Plastico Industries, we've switched to a phthalate-free plasticizer for our Plastisol to ensure that it's safer for customers, employees and everyone involved.
4. You Need a Water-Resistant Coating
Plastic has a reputation for being nigh-indestructible in nature (doesn't it take thousands of years to biodegrade?) In reality, many plastic coatings will break down with prolonged exposure to water, which puts the underlying surface at risk of developing corrosion. 
Not Plastisol. Its water-resistance makes it perfect for parts and equipment that are exposed to freshwater, saltwater or high levels of humidity. You'll find it widely used in the marine industry and fishing tackle manufacturers.
5. You Need to Prevent Mold
Along with its impressive water-resistance, Plastisol also resists another moisture-related problem: mold and mildew. 
Plastisol is nonporous, so it will not trap moisture as readily as more porous material like vinyl. Agricultural equipment is often coated in Plastisol for this very reason.
Our Plastisol Coating Capabilities
As you can see, Plastisol is used across many different industries. In the 20 years we've been dabbling in Plastisol, Plastico Industries has coated products in all these industries and more! We make it in-house and use it daily to coat upwards of hundreds of thousands of parts. 
Plastico has four different machinery lines dedicated to Plastisol dip coating, which gives us the flexibility to coat all kinds of parts in small or large volumes. We have the ability to formulate the coating to meet specific applications, including stringent military and automotive specifications.
Contact us today to learn more about Plastisol and decide if it's the right coating for you.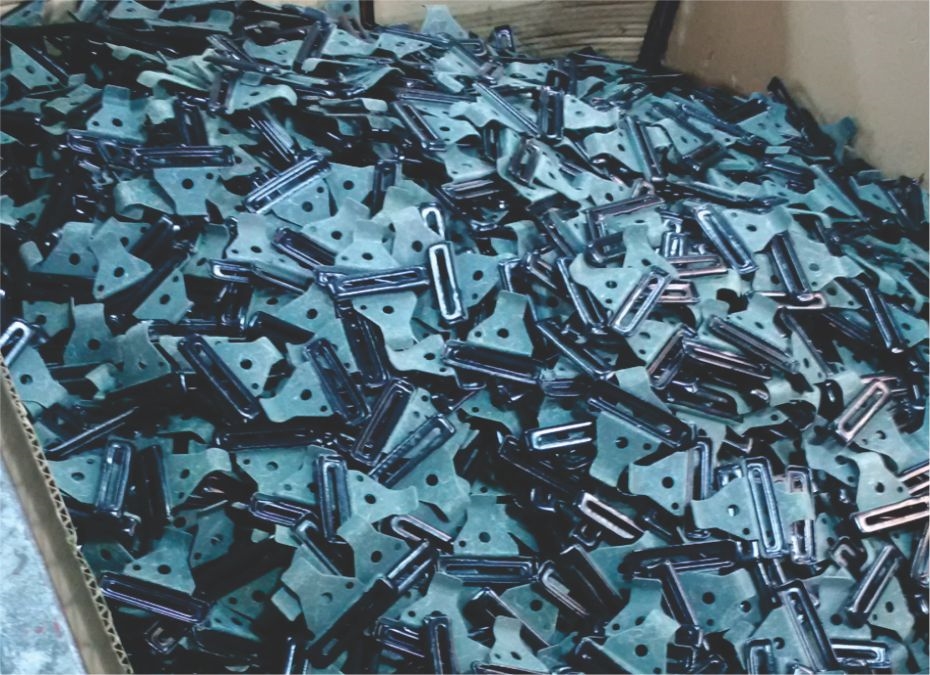 Plastisol is a PVC-type coating in plasticizing liquids. At room temperature, Plastisol is a liquid; when heated or cured, the liquid turns to a flexible, rubber-like barrier.
Once applied, Plastisol coating is practically indestructible, making it ideal for numerous high-impact applications.
Why Use Plastisol?
Plastisol coating is renowned for extreme corrosion resistance, but there is much more to it than that.
This coating is tough, making it nearly impossible to damage with impact – it will not chip or fray. Plastisol is often applied to components as a preventative measure to reduce wear or eliminate rattling. It also boasts impressive chemical resistance.
Although it is a PVC-based coating, Plastisol has a soft, almost rubberized feel. It is comfortable and easy to grip and boasts terrific sound-deadening properties. It can be used to reduce the wear on parts and eliminate rattling.
As an insulator with high dielectric strength, this coating also many electrical applications, including electrical sheathing.
How Is It Applied?
Plastisol begins as a fluid mixture of PVC particles and additives. In this non-processed liquid state, it can be poured into a mould or applied in a dipping process. Plastico Industries utilizes several carousel lines and a small monorail line for Plastisol dip coating.
The product is first preheated in an oven. Once the product reaches the determined temperature, it is lowered into the Plastisol solution. The product is coated and then returned to an oven for curing, which converts the liquid to its hardened state.
The thickness of the coating can be controlled by the temperature to which the product is preheated. The higher the preheat temperature, the thicker the coating. Lower temperatures deliver a thinner coating.
Is Plastisol Applied to the Whole Product?
The process of applying Plastisol allows for unlimited flexibility in coating.
In most cases, Plastisol is applied to the whole product, creating an indestructible seal around the piece. When customers ask for only a small portion of a product to be protected with Plastisol, the product is partially dipped to the desired coating requirement and then cured.
So, How Durable is It?
Plastisol offers many advantages not found in other coating options. It delivers a lifetime of protection to the product and is flexible in its composition.
Hardening agents can be added to deliver a cured hardness up to a Shore durometer rating of 90, which is harder than the plastic on a hard hat, while UV inhibitors protect against fading from the sun's damaging rays.
Additionally, Plastisol has natural anti-bacterial and anti-microbial properties and can even be formulated to meet FDA food grade requirements.
What Industries Use Plastisol Coating?
Plastisol bonds well to any metal substrate when properly primed and its extreme durability makes it the coating of choice for applications across every industry. The applications for coated products are wide-ranging. Industries that use Plastisol coating include Forestry, Mining, Aviation, Automotive and Heavy Machinery.
Its flexibility also lends this coating to small and delicate products. Locksmiths understand the advantages of a Plastisol coating, as even the tiniest of lock picks receive this durable coating solution.
Plastisol is also the coating of choice for outdoor municipal playground structures. With its extreme durability, UV protection and sound deadening properties, it's no wonder why most playground equipment is coated with Plastisol!
To discover more about the many advantages of Plastisol and to receive a no charge quotation for Plastisol coating, visit our web site or call us at 1-888-664-9998.
As of September 6, 2018, Plastico Industries is officially recognized for conforming with the ISO 9001:2015 standard in our industrial metal coating services.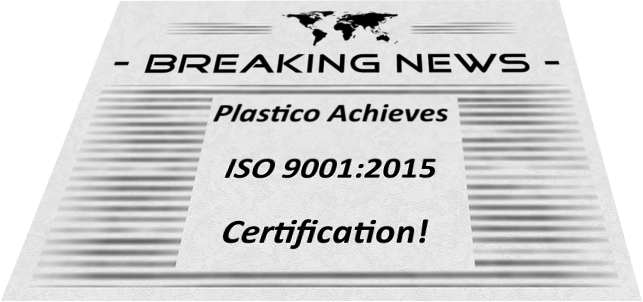 For Plastico Industries (and our parent company Latem Industries), ISO 9001:2015 certification means:
Plastico Industries' top management demonstrates leadership and commitment to upholding a Quality Management System that meets ISO 9001:2015 standards.
Our Quality Management System comprehensively addresses risks, opportunities, changes and quality objectives.
We have plans and processes in place to meet our customers' requirements for our services.
All our employees have the training and resources they need to support our Quality Management System.
The roles and responsibilities necessary to uphold this commitment have been assigned, communicated and understood.
We continuously monitor, measure, analyze, and evaluate our Quality Management System with an aim to improve wherever we can.
We'd like to take a moment to explain what it means to be an ISO 9001:2015 certified industrial metal coater and why it matters to us and our customers.
What ISO 9001:2015 Certification Means
ISO stands for the International Organization for Standardization. It is an independent, international organization that sets quality, safety and efficiency standards for products, services and systems.
Both the Standards Council of Canada (SCC) and the American National Standards Institute (ANSI) are membership bodies of the ISO.
The purpose of the ISO's universal standards is to encourage manufacturers (and other organizations) to consistently meet customer expectations and regulatory requirements, and to enhance customer satisfaction by effectively applying a quality management system.
So, what does it mean to be ISO 9001:2015 certified?
In short, it means the organization has a proven commitment to providing quality and consistency to its customers.
To an industrial metal coater like Plastico, ISO 9001:2015 certification means delivering quality coatings that hit the deadline and meet or surpass our customer's expectations every time.
To our customers, it demonstrates that our promises are backed up by a universally-recognized quality management process. We put lots of time and effort into ensuring our work meets the ISO standards from beginning to end.
How Plastico Earned ISO 9001:2015 Certification
Although the International Organization for Standardization develops these standards, the task of auditing organizations for compliance falls to independent certification bodies.
Plastico Industries passed an audit by The Registrar Company (TRC). TRC issued Plastico's Certificate of Registration for ISO 9001:2015 on September 6, 2018. TRC is a trusted certification body accredited by the ANSI-ANQ National Accreditation Board (ANAB) for over twenty years.
ISO 9001:2008 vs. ISO 9001:2015
If you're already familiar with the previous standards set in 2008, you'll find few changes in the ISO's current criteria. What has changed is:
New structure (expanding from 8 clauses to 10)
Renewed focus on top-level accountability, involving the highest levels of management in implementing and maintaining ISO standards
Emphasis on risk management throughout the organization, using the system as a preventative tool that encourages continuous improvements to process
More flexibility for organizations like Plastico to develop ISO documentation in a format that meets our needs as a industrial metal coater
Alignment with other key management system standards
Work with a Certified Metal Coater
Plastico Industries is proud to produce results that meet internationally-recognized quality standards. Start working with an ISO 9001:2015 certified industrial metal coater today.
The playground is more than a place to play. It's where kids first learn to make friends, take risks, and let loose their imaginations. Plastisol, one of the most versatile metal coating technologies, helps to ensure that jungle gyms are as safe as they are fun. Here are a few of the reasons why Plastisol is the perfect industrial metal coating for playground equipment of all shapes and sizes.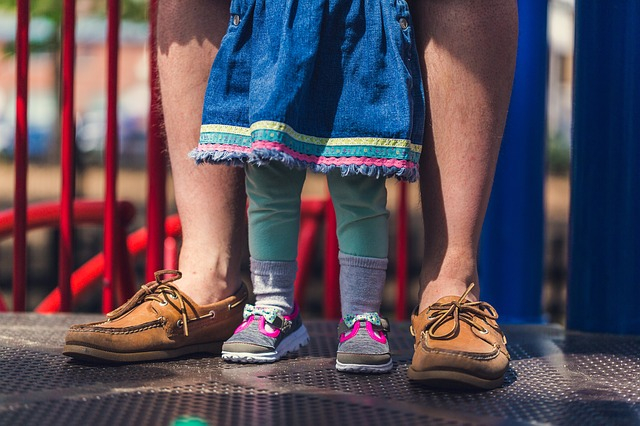 1. Impressive Durability
Playground equipment takes a beating. It requires metal coating technologies that can withstand years of stomping, kicking, scraping, and whatever else kids can throw at it. Plastisol plastic coating holds up to this barrage while being safe for children to explore.
2. Colour Customization
While we typically work with black and white here at Plastico, it's possible to dye plastic coatings just about any colour of the rainbow. This customization lets you build a playground that matches the surrounding neighbourhood and invokes the imagination of all those who see it.
3. Weather-Resistance
We experience the full spectrum of nasty weather here in Canada, from wicked windstorms to massive blizzards. This, combined with constant use by curious kids, puts a lot of strain on outdoor playground equipment.
Fortunately, Plastisol is made to handle the worst of our Canadian weather. The coating provides a barrier against rust and corrosion for longer than a coat of paint.
4. Cleanliness
Public parks are a haven for families who are looking to enjoy the outdoors. Unfortunately, parks can also be a haven for vandals. Graffiti can be an expensive (and annoying) problem, and playground equipment is no stranger to the spray paint's wrath.
Plastic coating can't solve this problem, but it can help to reduce the cost. It is possible to remove graffiti from plastic-coated playground equipment, eliminating the need to re-paint whenever a vandal chooses it as a canvas.
5. Cost-Effectiveness
Like all outdoor fixtures, playground equipment requires ongoing maintenance to look and perform at its best. Maintenance can be a significant expense for school boards and municipalities. It's also an inconvenience to its users; no child wants to encounter a barrier and a "Wet Paint" sign when they go to the park.
No coating lasts forever. Plastisol is no exception. However, its superior durability and resistance to the elements will reduce the cost of maintaining the metal components of playground equipment compared to painted or bare parts.
Our Experience Coating Playground Equipment
Plastico first stepped into the arena of playground equipment back in 2016 when we partnered with a local outdoor recreation equipment company. Together, we worked to build a Plastisol coating line that could handle their large products. Now, we're responsible for processing their entire inventory of stairs, bases, and other metal components for playground equipment. We're thrilled to play a part in bringing safe, fun playgrounds to school boards and cities across North America!
Wondering what else we can do? Plastico is an industry leader for industrial metal coating, and we're ready to answer any questions you may have about our services. Contact us today!
Contributors
Latest Posts
Archive
2019

November

August

July

May

April

March

2018

December

September

August

July

June

May

April

February

January

2017

December

August

July

June

May

April

March

January
Tags
Everything
Aquence (A-coat)
Nylon Dip or Spray
Plastisol Dip
Prevent Corrosion