AQUENCE COATING (A-coat)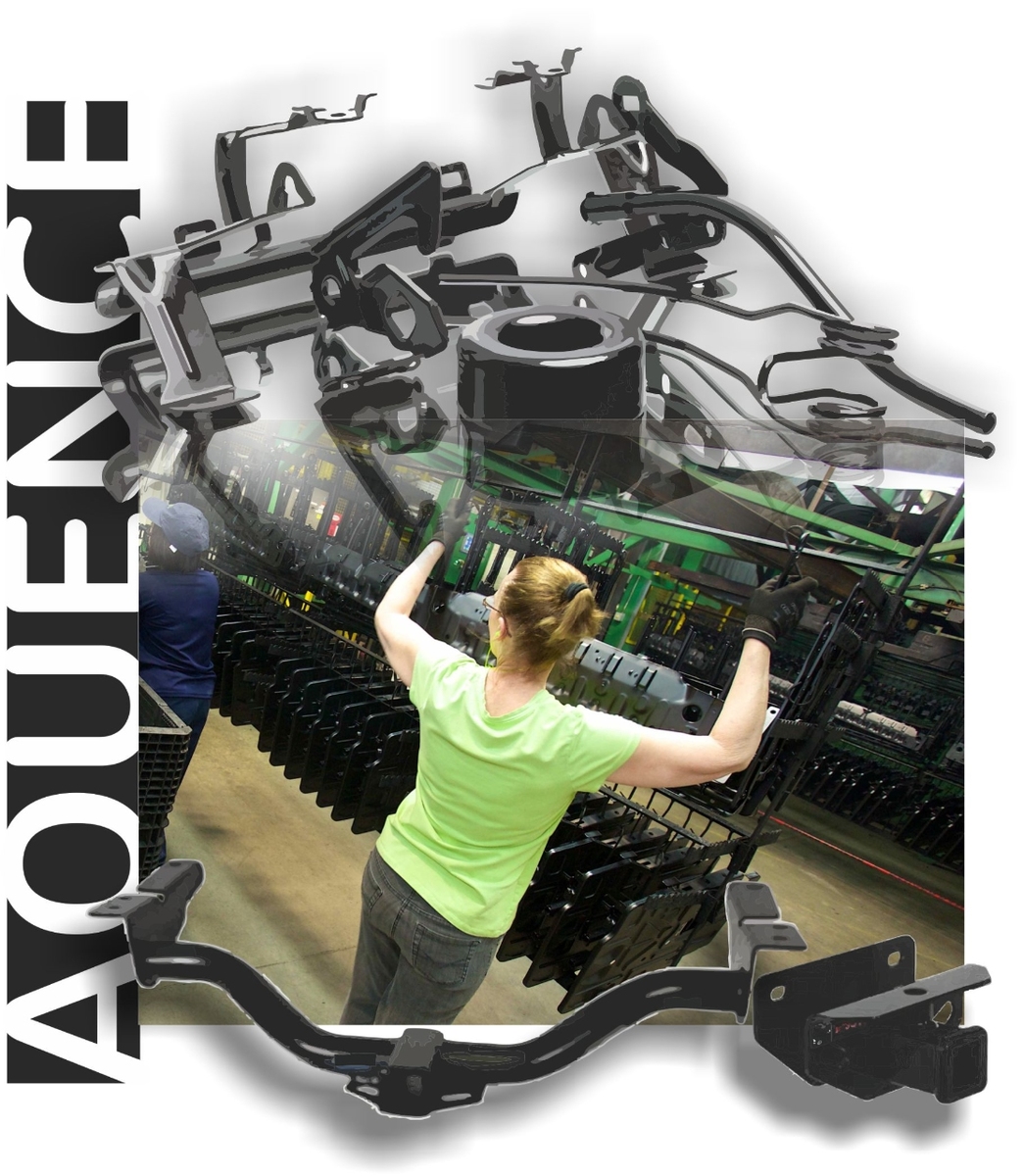 Back in 2010, when Ontario's manufacturing community was in need of an Aquence coating supplier, Plastico Industries answered the call, and invested in a new line. Production began in 2011, and today, Plastico  remains as one of just a few Aquence coating suppliers in the province.
A-coat (Aquence), previously known as Autophoretic is a dip process that bonds to iron, where an organic polymeric emulsion chemically deposits on the surface of a clean iron substrate. This is an environmentally friendly and sustainable coating process with unlimited throwing power, offering a completely uniform coverage, with excellent corrosion and scratch protection properties.
One 'stand-out' point on A-coat is its ability to coat an entire part, both inside and out, a corrosion protection benefit rarely found in other coatings.  
A-coat is commonly used in both the automotive and heavy industrial industries, and Plastico Industries is the only Canadian commercial coater to offer both the 866 (matte like finish) and 930 (semi-gloss) series paints,
Aquence 866
is an environmentally friendly, water based matte-like black coating, with no heavy metals or VOC's. Its low curing temperatures (220-240F) allow us to coat assemblies with rubber, plastic and Teflon pieces, without causing any damage or movement restrictions. Because the paint only adheres to ferrous metals, any non-ferrous material is left virtually untouched. It is primarily used on automotive interior parts, where temperatures will not exceed 250F. This chip and scratch resistant coating is very thin, adding just 0.5 to 1.0 mils of thickness to the part
Click Here to Contact Us for a Free Quote
Film Properties:

TEST

AquenceTM
Autophoretic® 866™

RESIN TYPE

 

FILM THICKNESS (MILS)

0.5 – 1.0 (12 - 25 µ)

1MM CROSS HATCH ADHESION

NO FAILURE

GLOSS @ 60°

5 – 10

PENCIL HARDNESS

4H – 7

T- BEND FLEXIBILITY TEST

0T

REVERSE IMPACT

120 – 160 IN-LBS.

SOLVENT RESISTANCE (MEK )

100+ MEK-DR

OPERATING TEMPERATURE
RESISTANCE**

<230ºF (<110ºC)

Anticorrosion Properties:

TEST

AquenceTM
Autophoretic® 866™

 

Average Total Scribe Creep

504+ HRS NSS, ASTM B-117

=3 mm total creep

1008+ HRS NSS, ASTM B-117
(NO SCRIBE)

<5% field rust

20 - 40 CYCLES SAE J2334

=3 mm total creep

20 - 40 CYCLES GM 9540 P

=3 mm total creep

1000 HRS. HUMIDITY, D1735

<5% field rust

WATER SOAK (240 HOURS)

Pass
** Temperature resistance of ACC® 866™ Series Coating is dependent upon duration of temperature exposure and other environmental conditions (such as air flow and presence of moisture). Lifecycle testing for parts that will be exposed to temperatures above 200ºF or 90ºC is recommended.
Aquence 930
is an environmentally responsible epoxy-acrylic urethane coating, free of heavy metals, with low VOC that delivers enhanced corrosion performance for demanding applications like frames and chassis components. Aquence® 930™ Coating has been tested to achieve 1000 hr Neutral Salt Spray (NSS) performance and is equal or better than traditional coating methods on automotive OEM cyclic corrosion tests.
This chip and scratch resistant coating also goes on very thin, adding just 0.8 to 1.0 mils of thickness to the part
Aquence® 930™
Film Properties

| | |
| --- | --- |
| TEST | PERFORMANCE |
| FILM THICKNESS (MILS) | 0.8 – 1.0 (20 – 25 µm) |
| CROSS HATCH ADHESION | No Failure |
| GLOSS @ 60°C | 20 – 40 @ 60°C |
| PENCIL HARDNESS | H – 3H |
| COLOR | Black |
| REVERSE IMPACT | 120 IN-LBS |
| SOLVENT RESISTANCE (MEK) | >100 Double Rubs |

Aquence® 930™
Anti-Corrosion Properties

TEST

PERFORMANCE

 

Average Scribe Creep

504 HRS. NSS, ASTM B-117

3 mm Total Creep

1008 HRS. NSS, ASTM B-117

5 mm Total Creep

40 CYCLES SAE J2334

3 mm Total Creep

240 HRS. HUMIDITY, D1735

No Corrosion,
Blistering or
Adhesion Loss

120 HRS. WATER SOAK
FLTM BI 104-01

No Adhesion Loss