The Shocking Truth
Ok, we were going for an impactful subheading here, but the truth is, shocking or not, many coatings companies claim that their topping delivers die electric protection properties. What it really comes down to, is the specific die electric requirements of each individual customer.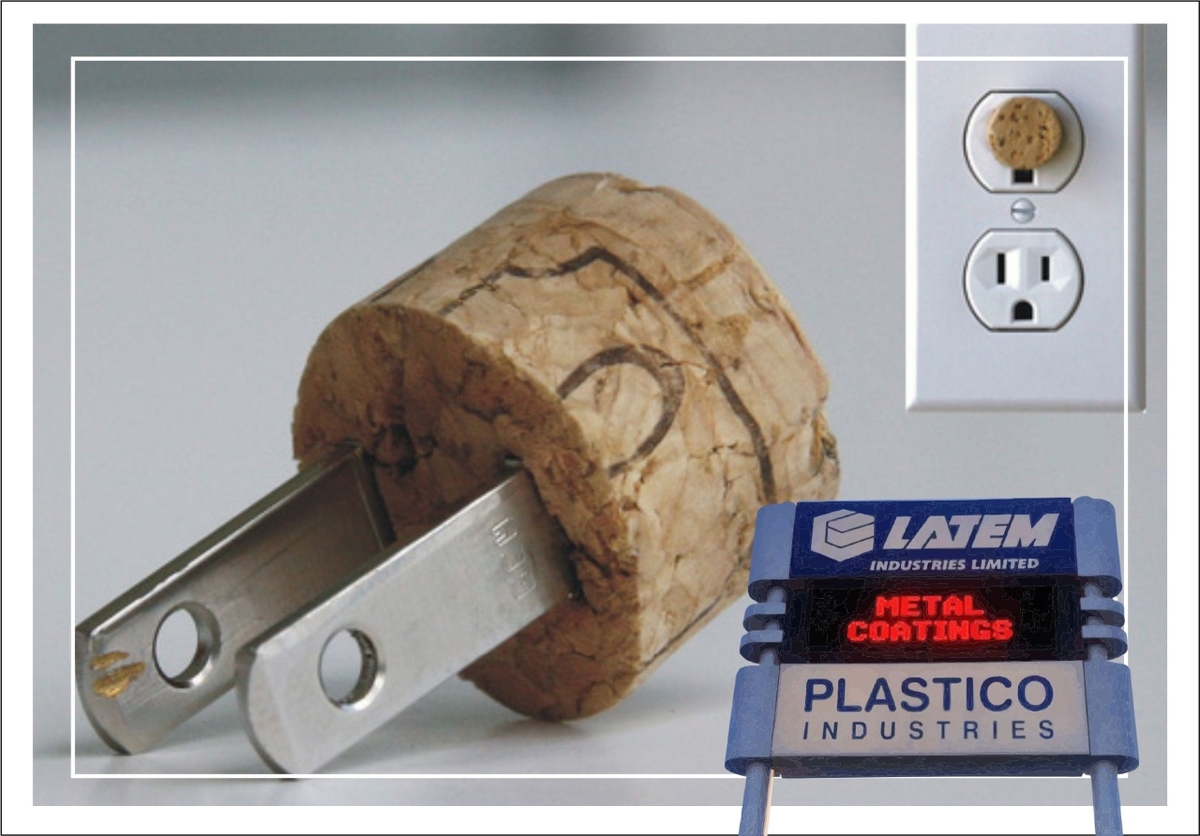 Where Does Plastico Industries
Fall Into This
We've been coating massive volumes of parts since before the turn of the century. The family has been in the metal finishing business since 1977, but our history is a story unto itself, and one we'll leave for another time. When we envisioned Plastico Industries, we wanted to offer coatings to the market that were a little less 'run-of-the-mill'. It was our goal to focus on products that were a little more unique, and we're proud to offer three of them.
Aquence (Acoat - a Henkel® product), is a black paint that will bond only to an iron substrate. Acoat is an interesting choice of coatings, but one that we discuss in detail on our website.
Plastisol is a PVC based topping, available in near unlimited colors. We have not only mastered the art of this application, but also the manufacturing of it. Again, more information on plastisol can be found on our site.
Nylon for Die Electric Coating
This blog is about nylon coating, and its ability to meet die electric specifications.  We use Rilsan® nylon 11, which has been tested to provide up to 800 volts/mil thickness of protection. Additional benefits of nylon 11 include excellent corrosion, wear, chemical, water and abrasion resistance. Add to this a very low coefficient of friction, and you end up with one of the most durable powder coatings available. Oh yeah, it looks pretty darn nice as well!
Thickness Requirements
It's important we understand how coating thickness applies to the ability to meet your needs. The thicker the coating, the more protection offered, but there are limitations in how thick we can go. In order to achieve good die electric properties with Rilsan® nylon 11, you will need a minimum of 1mil thickness. Plastico Industries offers both a nylon spray, which sees thicknesses of between 1.5 and 15mils, and a dip option, which typically range between 5 and 40mils. There are a number of other variables to be considered, such as the substrate being coated and its incoming condition.
The latter of these two (incoming condition) is yet another benefit of working with Plastico Industries. In many cases, the parts we see can go straight from your packaging to our coating line. In some situations however, further surface preparation may be required. Having Latem Industries under the same roof is an incredible benefit to customers whose parts are in need of that extra adhesion boost. Latem's finishing services help by removing any contamination that may be found on your parts, thus helping to make your coating pinhole free.
Need to Know Information
When working to achieve die electric specifications, you need a top-of-the-line coating, with no pinholes. The inability to meet that consistency in a coating is almost certain to cause die electric failure due to electrical leakage.
Plastico Industries is a world leader in the 'specialty' coatings business. We have proven time and time again that we can exceed our customer's expectations, even when it comes to removing the flow of electrical current through a part.
You might say we deliver shock value for our customers!
| | |
| --- | --- |
| | Dave Mattingly at 5:19 AM |
And that puts Plastico Industries in Cambridge, Ontario amongst royalty.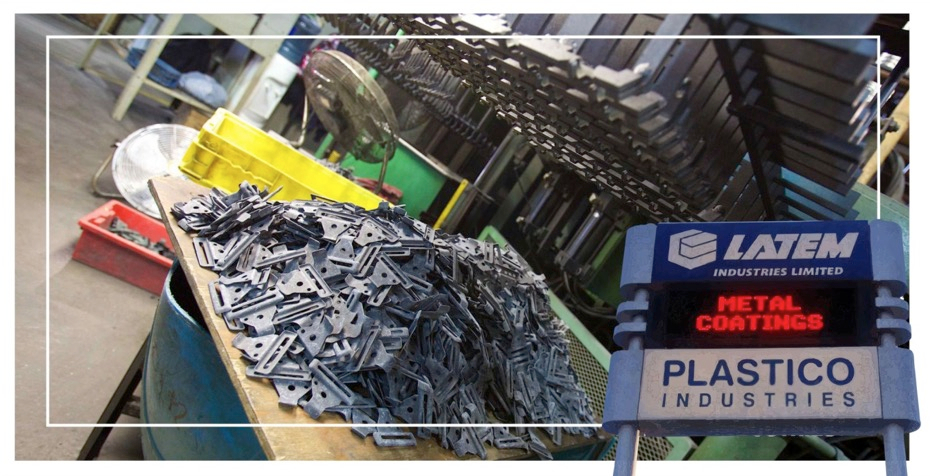 Sure, the crown is self-administered, and the award may be a wee bit presumptuous. But the proof is truly in our pudding, which is an organic, nylon powder derived from Castor beans.
Advantages of Nylon 11 Powder Coating
Our nylon powder (from Arkema ®) is in a category all to itself. Nylon 11 (PA11) is specially designed to extend the shelf life of metal parts. It is a renewable, raw material, free of any heavy metal pigments.
Tested to withstand over 2000 hours of salt spray, Nylon 11 is well known for its chemical, water, corrosion, and abrasion-resistance. It applies thin to allow for tight tolerances, yet it is incredibly durable. With an extremely low friction coefficient, Nylon 11 allows parts to move freely. It can also reduce noise and vibrations, and guard against UV rays.
On top of these advantages, Nylon 11 creates a beautiful finish on the part. One might say it's fit for a king!
Why We Use Nylon Instead of Polyester/Epoxy
Traditional powder coating (polyester/epoxy) is a competitive business. In some heavily-populated industrial sections in Ontario, you'll see coating/finishing companies nearly as often as a certain donut franchise. By the year 2020, the powder coating industry is estimated to reach nearly $12.5 billion in global sales. Not bad for an industry that only got started in the mid-20th century!
Don't get the wrong idea — there are some fantastic traditional powder coaters. If you are looking for polyester/epoxy-based powder coating in Southern Ontario, we'd be happy to recommend a handful of businesses that will almost certainly exceed your expectations.
But in this market, only the strong survive. Plastico Industries gained an edge by doing things differently from our competitors. We stay away from the traditional coatings because we believe in being unique.
It wouldn't be fair to say that nylon coating is always better than traditional coatings. That all depends on your specific expectations. What we can say is this: nylon coating is truly resilient, built for high performance, and it is, in our humble opinion, deserving of the crown.
Our Powder Coating Capabilities
At Plastico Industries, we spend a lot of time playing with nylon! We've been a preferred coatings supplier since before the turn of the century. Today, we serve the automotive, agriculture, furniture, and heavy equipment industries, just to name a few. We offer both fluidized bed and spray coating options, with the capacity to pump out millions of parts on our lines each week.
For more information on our coatings, venture onto our solutions page at http://plastico.ca/Coating-Solutions.htm , or contact myself, Dave Mattingly, at 519-240-0739.
| | |
| --- | --- |
| | Dave Mattingly at 8:59 PM |
Medical Grade Coatings
at Plastico Industries
We may be just what the Doctor ordered!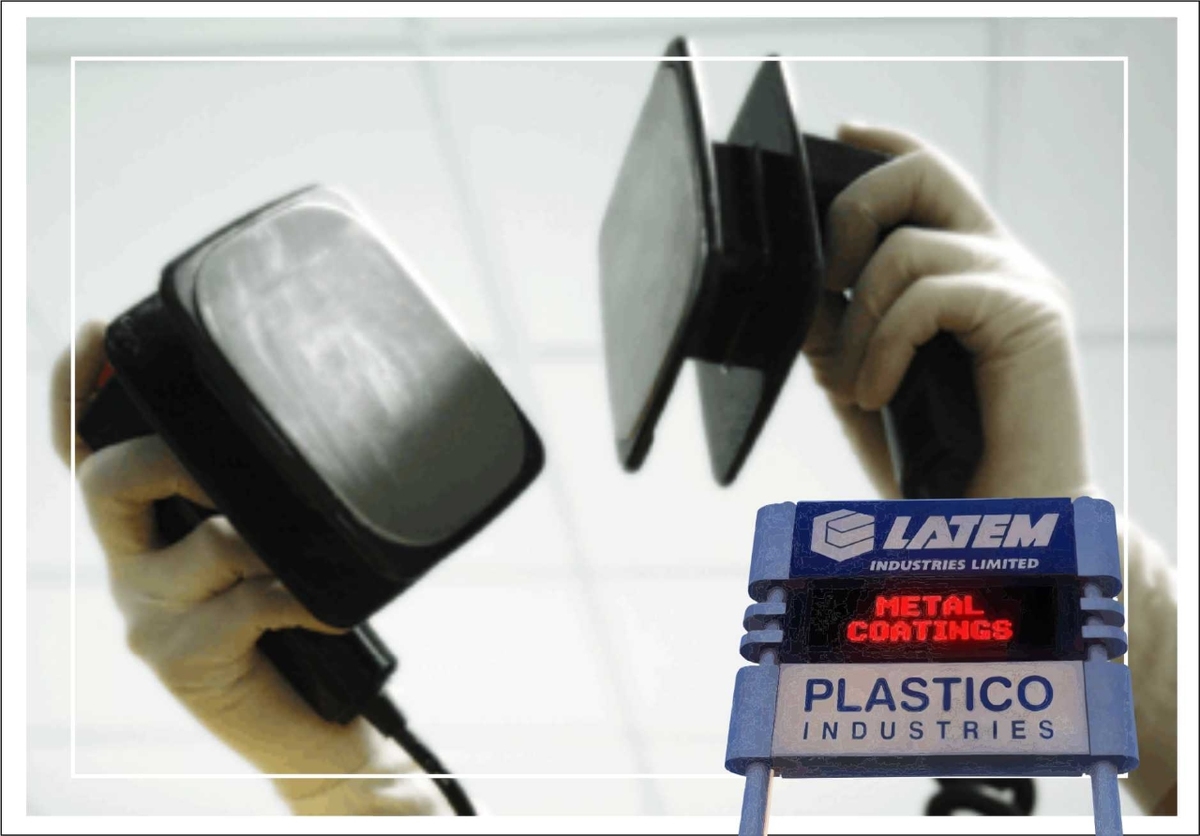 Pardon the pun, but it was realized long ago that our nylon coatings are suited for much more than just the automotive industry. Don't get me wrong, the car business has been a major building block in Plastcio's foundation. Finishing and coating car parts has helped keep a lot of people gainfully employed. And it has certainly helped elevate our status to a world class mass finishing and coatings supplier (Latem & Plastico Industries).
Nylon coating isn't our only specialty
Recently, we completed a half million dollar expansion to our business by adding another plastisol line, this one with significant capacity. Line 11 was built primarily to manage playground equipment, but has already proven to be much more versatile, as we have also begun working with a few industrial and agricultural flooring manufacturers, as well as custom rack builders.
Doctor's orders
Plastico Industries has garnered some interest from the medical community as well, in part because we only use a phthalate free plastisol. This fact alone has helped us win some business from local manufacturers who place their products in our very own hospitals. With respect to our new line, we have gone one step further, using a plastisol that is formulated with the health and safety of children in mind.
Just south, approximately twenty feet or so from our plastisol line, we have a couple of options for working with nylon. Plastico Industries uses both a spray application and a fluidized bed coating solution to apply nylon 11, a Rilsan® product.
Nylon 11 can be autoclaved in medical applications, and has been used on forceps, defibrillator paddles and catheters, as well as tubing hubs. Plastico Industries has applied our nylon coating to a few different products you'll find in local medical facilities. We have even entertained a few experimental trials, from companies who share our drive to continuously think outside the box. Nylon is clearly one of the most durable and versatile coatings on the planet.
Why Plastico Industries?
Whether it's nylon or plastisol that best suits your needs, if you're in the medical manufacturing business, and especially if you're in Ontario, Plastico Industries should be the obvious choice. Note as well, that aside from these coatings, we do have the ability to apply a primer coat (Aquence) to any iron based substrate, and our parent company, Latem Industries, is located under the same roof, and offers full metal finishing prep services if required.
| | |
| --- | --- |
| | Dave Mattingly at 5:25 AM |
We believe we're special! Not only because we have some truly terrific people on staff, 'keepers' that have been with us since day one, but one walk around our building and it's easy to be impressed.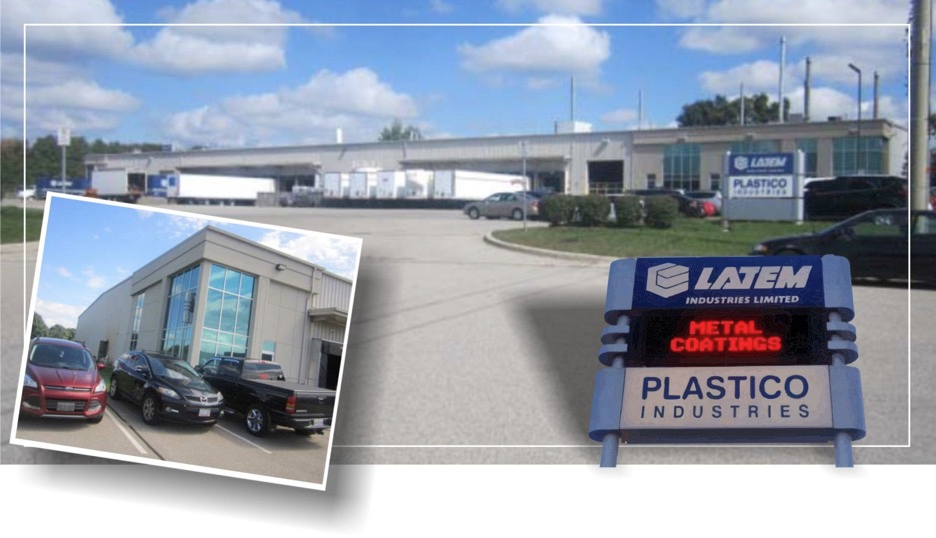 Plastico Industries occupies approximately 50% of our 80,000 sq ft building in Cambridge, the other half, is parent company Latem Industries. On our floor, we have several coating lines including a few carousels, used for dipping parts and a short hang line where we can both dip and spray. We also have a large paint line and a large plastisol dipping line.
What makes us special is #1, the products we offer, and #2, the fact that we have a full metal finishing, or prep, service right onsite in Latem Industries. To find out more on why point #2 is of benefit, please check out our Latem blogs found at www.latem.com. Expanding on point #1, Plastico Industries distinguishes itself by being unique in the coatings we offer.
Aquence Coating is a black paint that will bond only to an iron substrate. It was developed by Henkel to service the automotive industry. To this day, automotive is still the primary beneficiary of Line 8, our Aquence (or A-Coat) line, but we do have a number of other partners in the furniture, heavy equipment, and agricultural industries. Compared regularly to E-Coat, an electrostatically charged topping, A-Coat is a wetting agent, and will therefore bond to all of the iron it touches. The takeaway for the customer is a more thorough coating both on the outside, and inside (if the product is tubular).  We also coat at lower temperatures, which allows us to coat assembled parts without attacking bushings or part movement.
Plastico Industries is the only commercial Aquence coating company in Ontario, which brings us back to being unique.
Nylon Coating is an extraordinary coating option. Sure, we may be a little biased, but we've seen the results.  Plastico Industries uses both Nylon 11 and Nylon 12, and both are powdered formulations, the bulk of which we apply through fluidized bed processes (note that we do offer a spray option as well). Nylon is a thin coating with a very low coefficient of friction, and known for being extremely durable. Bondable to many metals, the aesthetically pleasing finish has been known to withstand harsh chemicals, ultraviolet rays, and over 2000 hours of salt spray testing. 
Plastico Industries is just one of a small group of commercial coaters in the province offering this service. Considered by many (and, of course, ourselves), to be the experts, we move millions of parts monthly through our nylon processes.
Aside from the rarer availability of this coating, what sets us apart here is our ongoing willingness to try new things, and push this coating option to new heights.
Plastisol Coating is a PVC based top coat, that provides a 'rubber-like' finish to a product. A liquid topping, the metal pieces are hung from a rack, and dipped into the plastisol. Parts are usually primed first to ensure a stronger adherence, and then cured at varying temperatures, depending on the desired outcome of the coating. Plastisol delivers good thermal electric properties, as well as insulative properties and a good grip.
What makes us different is that we create our own plastisol. The formulations would be comparable, but we are able to cut out any middleman charges, and we can offer a near infinite amount of color options.
Our number of lines and coating options make Plastico Industries perhaps the most versatile plastisol coating company in Canada.
| | |
| --- | --- |
| | Dave Mattingly at 10:01 AM |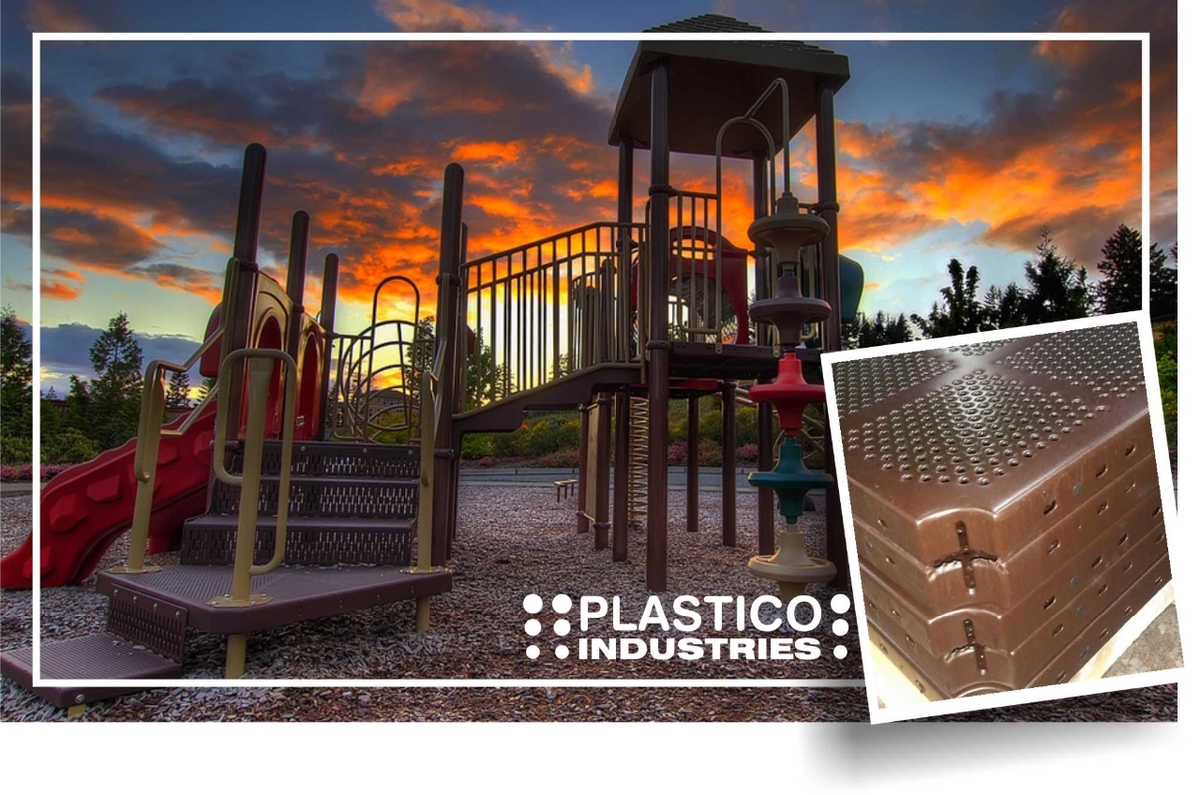 Don't worry, we still take our work here very seriously. It's just that now, on top of the millions of automotive, agriculture, furniture and heavy equipment parts we process, we're coating a healthy helping of playground equipment.
In early 2016 we partnered with a local, highly reputable outdoor recreation equipment company, and committed to building a plastisol coating line capable of managing their large parts. Less than a year later we were processing their full inventory of bases, stairs and anything else in plastisol, for their customers, which are school boards, cities and municipalities all over North America.
With this addition to our already impressive list of capabilities, Plastico Industries is easily Ontario's most versatile plastisol coating company.
| | |
| --- | --- |
| | Dave Mattingly at 9:58 PM |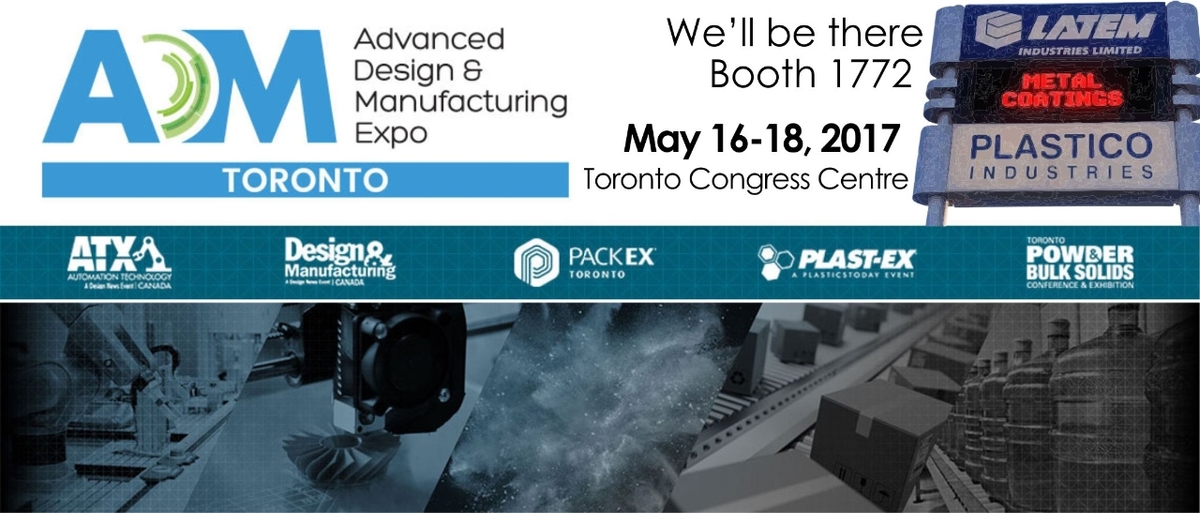 Tagged as Ontario's leading design and manufacturing event, ADM Toronto combines five events under one roof.
This show is a great opportunity to learn, to network and to pick up on today's cutting edge technologies. It's also a great opportunity to stop by the Latem & Plastico Industries booth, #1772, say hello, and maybe even get some free chocolates.
See you there!
| | |
| --- | --- |
| | Dave Mattingly at 4:56 AM |
What Does a Customer Mean to You?
The answer really is simple as no business can survive without them. Here are four simple tips that can make a difference in your retention level.
One... Practice What You Preach
We all get steamed when a business doesn't deliver on a promise. Large or small, most of us make plans around these commitments, so when they fail to deliver it can create a few wrinkles. If you want to keep your customers happy, do what you say you will do, when you say you will do it. It really is that simple.
Two... You Need to Have a 'Yes We Can' Attitude
We really need to have our most comfortable shoes at work so we can walk that extra mile for the customer should their request require it. Don't over-promise, but make sure the customer knows they are appreciated.
Three... Keep Your Customers in the Know
The second your customer feels their needs are not being met, you've lost them, and getting them back will be a much bigger battle than the initial win. Information adds tremendous value to your overall rating. The more informed your customer is, the more trust they have in you and the more likely you are to keep them coming back.
Four... Understand What Your Customers are Saying About You
We need feedback. Statistics suggest that 92% of buyers rely on word-of-mouth promotion when making a buying decision, and yet less than 70% of businesses are asking how they're doing. As much as we love the good stuff, it's the not-so-good feedback that makes us do better.
| | |
| --- | --- |
| | Dave Mattingly at 9:12 AM |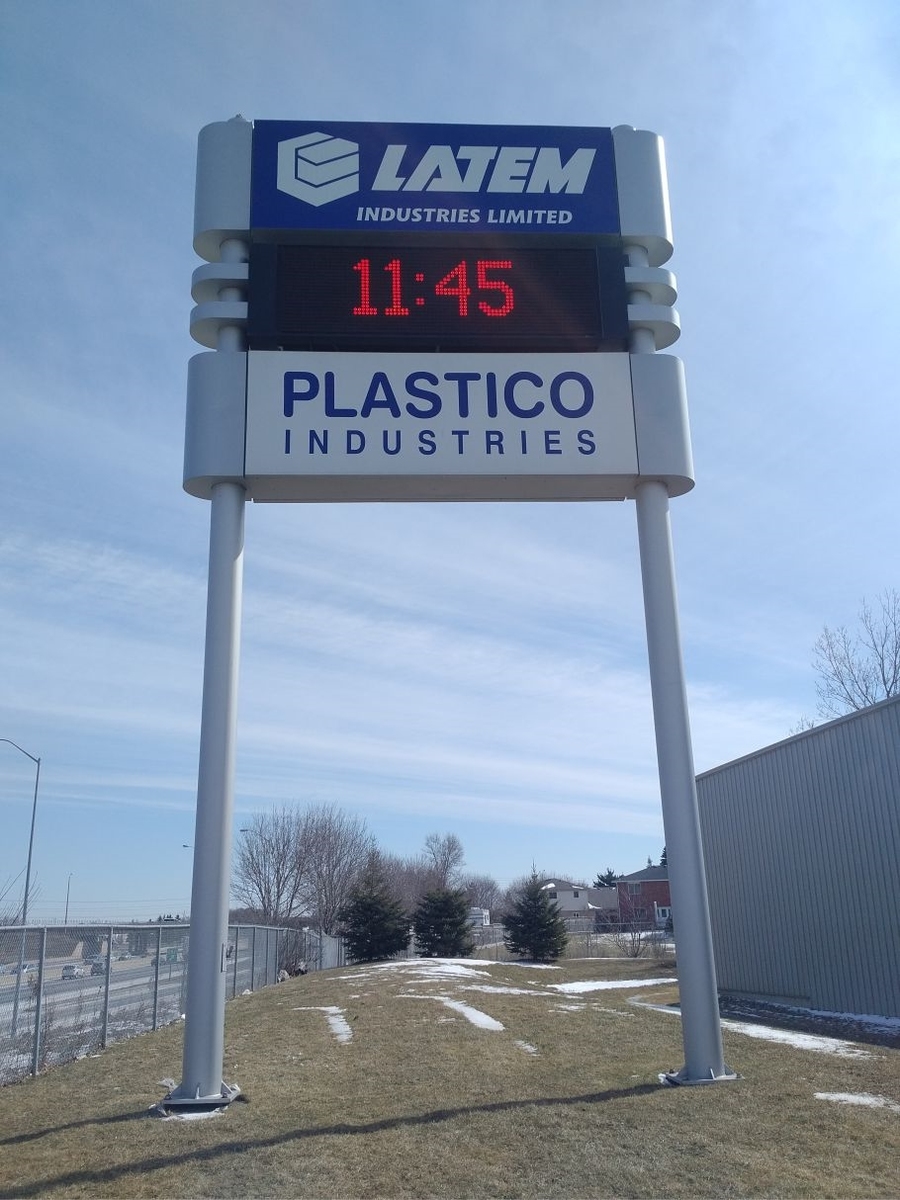 Ours is big, bold, and beautiful! It is instantly recognizable to any commuter who uses Highway 401 through Cambridge. It sits right at the 401 and Franklin Blvd, and it can be seen from beyond the next highway intersection in either direction. We know it gets noticed because it has been, and continues to be, the topic of many discussions.  
Good signage can be crucial to just about any business, and especially important to those in highly competitive markets. They're essentially a silent salesperson, and when done right, a good sign will deliver traffic to your door.
Plastico Industries is in the coatings business, while Latem Industries, our parent company, is in the mass metal finishing business. We use our signage to tell potential customers what it is we do. We also use it to share the time and outside temperature, and on occasion, you may even see us supporting our local OHL team. 
Our location is near perfect, and not just for our sign, but also accessibility for our customers. We are easy to see and easy to find.
It may all seem a little boastful, but it really is just one more thing we are very proud of at Latem and Plastico Industries.
| | |
| --- | --- |
| | Dave Mattingly at 4:40 AM |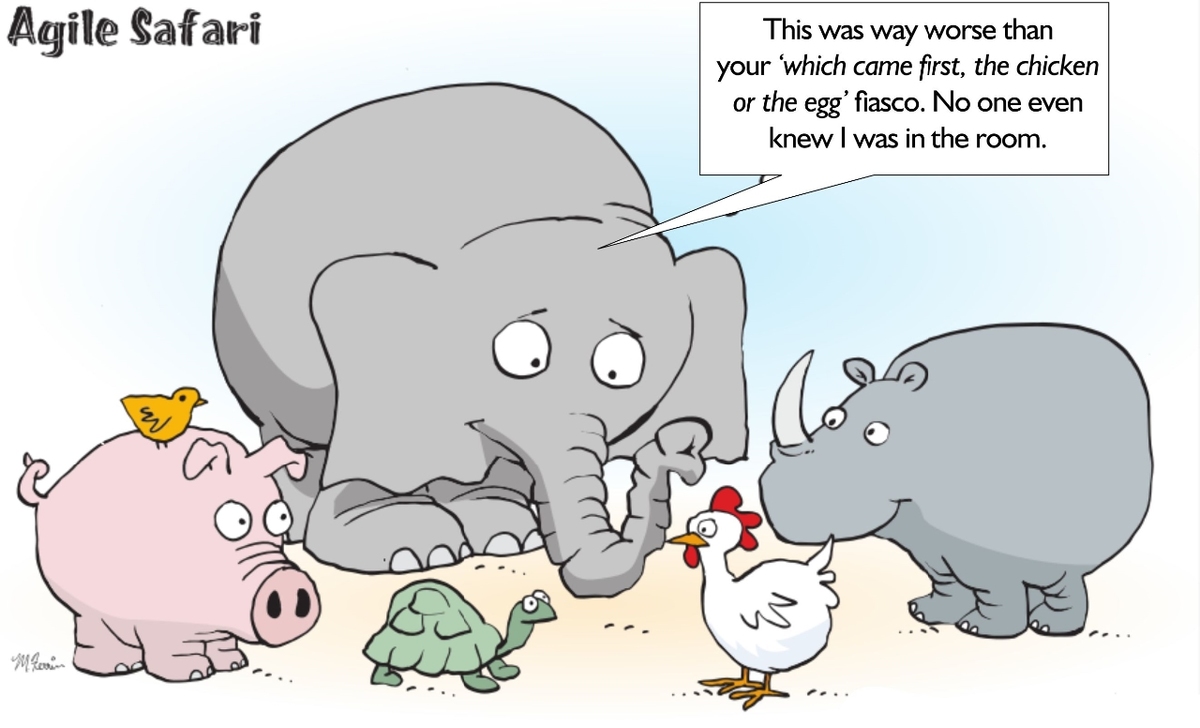 Our parent company Latem Industries has always prided itself at being a real problem solver when it comes to servicing Ontario's manufacturing industry. No argument here!
Plastico Industries has been known to put out a few fires of their own. A number of years back we spent countless hours in our boardroom with Engineers from our customer, a Tier One Auto supplier, as well as a number of Engineers from our customer's customer. Make sense? Our customer's customer just happened to be representing one of Canada's top automotive assembly plants.
The problem,......after quite some time in full production mode, service reports began to surface of a wear and vibration issue within a specific line of vehicles. An initial decision was made to sit on it and hope it went away, but after a short period of time, the condition only got worse, which brings us back to our boardroom.
Plastico jumped on board with a solution that solved both issues with one dipping process. Our nylon coating provided superior wear ratings, while also removing the vibration concern. To top it off, even though appearance wasn't a concern, our nylon coating provided a consistent and attractive finish.
A few years later, and Plastico Industries continues to deliver that very same solution to the same customer on a regular basis.
| | |
| --- | --- |
| | Dave Mattingly at 2:13 PM |
OK, so we made up this award, but that really does look like our President, Mike with the big trophy. And what's wrong with giving yourself a pat on the back every once in a while? We truly feel we are the best at what we do, and we're quite confident our customers would agree.
If you're even a little bit curious, simply check out the photo gallery on our website at plastico.ca, or feel free to give us a call and we may even be able to run through a few samples for you.
Happy customers are reward enough for us, but who knows, maybe one day Mike will get a real trophy he can pose with.
| | |
| --- | --- |
| | Dave Mattingly at 12:03 PM |
Contributors
Latest Posts
Archive
2017

June

May

April

March

January
Tags
Everything